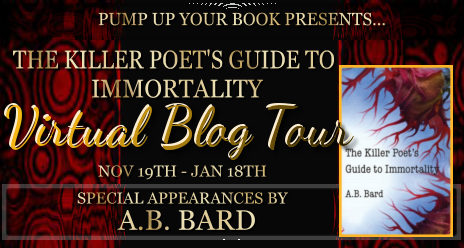 Thanks to Pump Up Your Book, we here at Working for the Mandroid are happy to host author AB Bard on her blog tour for The Killer Poet's Guide to Immortality. Please welcome Mr. Bard as he discusses his ability to help you will your uncontrollable urge to read. We all know that one, right?
By AB Bard

Truly? Are you insatiable? To satiate is to satisfy uncontrollable urges. To be insatiable means you can never satisfy these powerful urges. To be an insatiable reader means you can never satisfy your deep craving for the printed word. If you are truly insatiable, you will read Gideon's Bible alone in a hotel room if there is nothing else to read, even if you are an atheist. You will read the pamphlet on "Certified Mail, Return Receipt Requested" when standing in line at the post office. You will read the drivel that passes for bestsellers in the 21st century lit-marketplace.
Well, you don't have to. I can satiate your insatiable cravings. I have published three – count 'em – 3! – scintillating novels, sure to satiate even the most lexicologically-hungry Vampire. And what's more, they are entirely, 100% Vampire free!
My most recent book is The Killer Poet's Guide to Immoratality, by "AB Bard." This is the tale of a frustrated poet who becomes a serial killer in order to get his poetry read. Sick? No, hilarious. The book takes off from there, careening past a murder trial featuring Roskolnikov from Crime and Punishment and William Butler Yeats, through lethal injection into a bizarre future governed by a theocratic dictatorship based on the second coming of Christ in the guise of a Killer Poet. You figure it out!
For the sane among you, I offer two historical novels – Bones Beneath Our Feet (a historical novel of Puget Sound), and Just Deceits – a Historical Legal Mystery. Just Deceits was #1 on Kindle for a while – it's that compelling.
Well, enough blowing my own horn. How about you? Are you hungry for even more good books? I will recommend a few of my favorites: The Poisonwood Bible by Barbara Kingsolver; Cloud Atlas by David Mitchell; Sometimes a Great Notion by Ken Kesey; The Sparrow and Children of God by Mary Doria Russell; The Brothers K by David James Duncan; and Wild Life by Molly Gloss.
May you be sated again & again & again . . .
About The Killer Poet's Guide to Immortality:
The Killer Poet's Guide to Immortality is the riveting tale of a frustrated poet who decides that the best way to get his work read is by pinning it to corpses with a dagger. Alternately profound and hilarious, this novel chronicles in rapid-fire succession AB Bard's obsessive murder spree, rise to media notoriety, capture, trial, and execution by lethal injection.

Then it presses further, into the future . . .
About AB Bard:
Reclusive Seattle author AB Bard's poetry has twice been nominated for the Pushcart. He is the author under a pseudonym of two other hysterical novels, or perhaps historical novels, neither of which is funny. Mr. Bard is not now, nor has he ever been, a member of the Republican Party. Mr. Bard does not Tweet. He was awarded a sheepskin (BAaa) from Reed College Sleeper Cell. His one super power is the ability to repel all conventional measures of literary success. Mr. Bard is lap to a cat, pal to a girl, God to a dog, & dog to the Man.

To find out more, please visit him at http://www.abbard.com